Tuesday July 18, 2017

Why is this picture here? CLICK on it.
(T'was a chilly night in Westwood in 1970, and the thing was SCARY. Ask Mister Cook and Mister Nielson, they were there too.)
Savant's new reviews today are:


The Sea Chase
The Warner Archive Collection
Blu-ray
John Wayne plays a German sea captain in a film that goes out of its way to create a favorable image of our former enemy, with hardly a Nazi flag or even a German accent in sight. Wayne and his co-star Lana Turner are as Teutonic as Blondie and Dagwood, yet the film works as a basic adventure – we like the charismatic star, and the sea chase format guarantees extra interest. John Farrow's direction and a fun cast are assets as well: Lyle Bettger, Richard Davalos, Tab Hunter, John Qualen & Claude Akins are all German sailors! On
Blu-ray
from
The Warner Archive Collection
.
7/18/17
Shalako
KL Studio Classics
Blu-ray
It's 007 in the saddle! Sean Connery didn't become a career cowboy but this one stint as a Louis L'Amour hero is a diverting change of pace. And we couldn't resist the pairing of two of moviedom's most attractive actors -- Connery and Brigitte Bardot. The cast is almost all-star: Jack Hawkins, Honor Blackman, Peter Van Eyck, Stephen Boyd, Alexander Knox and Valerie French -- with Woody Strode as Chato, challenging
Bond
Shalako to a duel to the death. Actually, it's rather good. On
Blu-ray
from
KL Studio Classics
.
7/18/17
and

The Quiet American (1958)
Twilight Time
Blu-ray
There appear to be no rules governing tricky politics in movies -- Joseph L. Mankiewicz's adaptation of Graham Greene's novel about terrorism in French-held Vietnam completely reverses the author's message. Does a conspiracy theory about a movie still carry any weight, when our daily political life now plays like one giant conspiracy? All-American Audie Murphy is the whitewashed 'U.S. aid representative,' while Michael Redgrave is the dissolute Brit correspondent. The main attraction may be all the atmospheric location work filmed in Saigon in 1957. On
Blu-ray
from
Twilight Time
.
7/18/17
---
Hello!
October's Criterion lineup is out, and it's special: Kubrick's Barry Lyndon, Welles' Othello, Dreyer's Vampyr, Lynch's Fire Walk With Me plus the newer attractions Personal Shopper and The Lure. That's a great month -- I've been curious to see Barry Lyndon again, I'm eager to see Vampyr at higher rez (it appears to be the same restoration as the previous DVD) and . . . wait for it . . . I've never seen more than a few clips of Othello.
Twilight Time's October release list was divulged a couple of days back: Walter Hill's Wild Bill, André De Toth's Play Dirty (!), Henry King's The Captain from Castile and John Gilling's Hammer shocker The Pirates of Blood River. How about some great Hammer-Columbia B&W titles, TT? Double bills, maybe? Twilight Time's July titles just came in and I'm trying to figure out how to tackle the PC minefield indicated by the presence of Everything You Always Wanted to Know About Sex but were Afraid to Ask . . . I still find much of it charming and hilarious.

And a welcome 3-D Blu of Kong: Skull Island just sashayed in off a FedEx truck. I have no idea what to expect and am keeping an open mind.
Thanks for reading! --- Glenn Erickson
Saturday July 15, 2017

Why is this picture here? CLICK on it.
Savant's new reviews today are:


Straw Dogs
The Criterion Collection
Blu-ray
Trailers from Hell's Charlie Largent takes on Sam Peckinpah's contribution to the ultra-violent movies of 1971. Originally rated 'X', details of a gang rape scene weren't shown until the home video era arrived. What does a nerdy math professor do when uncouth hooligans take his wife and violate the sanctity of his solid-stone country home? Defend his turf with deadly force, that's what. Pauline Kael called it 'fascist cinema,' but it's one of Sam's better pictures. On
Blu-ray
from
The Criterion Collection
.
7/15/17
The Valachi Papers
Twilight Time
Blu-ray
Charles Bronson plays a real-life Mafiosi in a period gangland saga with a fine script, some good performances and a production so sloppy that the whole thing could be called
The Anachronism Papers
. Joseph Wiseman and Lino Ventura supply the tough-guy star-power and Bronson actually commits himself to the role -- quite a change of pace for one of his later pictures. Also with Jill Ireland. On
Blu-ray
from
Twilight Time
.
7/15/17
Obsessions
Cult Epics
Blu-ray + DVD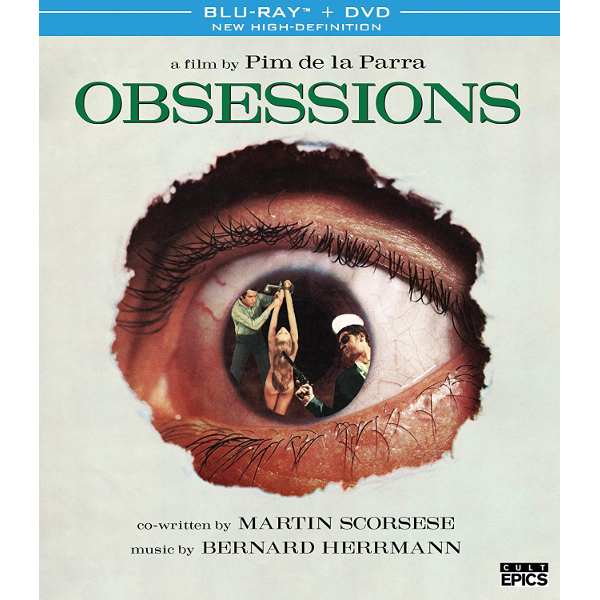 What a great sales hook -- a feature film with a Bernard Herrmann music score that we hadn't heard of. And one of the writers was Martin Scorsese, before
Boxcar Bertha
and
Mean Streets!
But wait, it isn't as simple as that. The new release is more than a little confusing. Its own ad copy first calls this Dutch production 'obscure,' and not four sentences later describes it as a 'classic exploitation film.' Starring Alexandra Stewart. A Dual-Format edition on
Blu-ray
and
DVD
from
Cult Epics
.
7/15/17
and

The Angry Red Planet
Scream Factory
Blu-ray
Hey, Ib Melchoir's Opus Mars-us is back, in a not-bad new scan and color-grading job. If the nostalgia bug has bitten you deep enough to appreciate a fairly maladroit but frequently arresting space exploration melodrama, this may be the disc for you. Let's be honest: NOBODY can resist the allure of the fabulous Bat-Rat-Spider-Crab, and in glorious Cinemagic, no less. Starring the non-angry redhead Nora Hayden, Gerald Mohr, Les Tremayne and jumpin' Jack Kruschen. Finally remastered on
Blu-ray
in its proper aspect ratio, by
Scream Factory
.
7/15/17
---
Hello!
Some fun links tonight. Longtime correspondent 'B' sends along an amusing link to Thrillist Entertainment's illustrated article The 100 Greatest Props in Movie History, and the Stories Behind Them, which has a lot of funky choices but is still an okay read. The Great Whatsis from Kiss Me Deadly is there, so I'm satisfied.
We were told he retired from audio commentaries, but perhaps this one was in the can from an earlier time: Kino says that Richard Harland Smith will be heard on the yak-track for their upcoming Blu-ray of Tobor the Great, which has been given a street date of September 12. The hero brat is the kid from Night of the Hunter!
Gary Teetzel forwards this syfywire link to The 23 Most Hilariously Wrong Genre Movie Closed Captions. I suspect that many of these are from Hong-Kong generated discs.
An excellent trailer-promo surfaced for about a day for Cohen's promised Blu-ray of The Old Dark House, and then disappeared. The quality was phenomenal for a picture we'd only seen pretty grungy quality. A facebook post claimed that Cohen had leaked a release date, but being the Savant, I missed it. If the promo pops up again, check it out, it's quite good.

And finally, judging by the online response, I ought to ditch this movie boosh-wah and call myself OLD MUSTANG CAR SAVANT. Thanks for all the notes and interest in a vehicle I had for many years, but never felt secure enough to invest in properly restoring. Now my daughter is finishing the job. Wotta gal!
I will now return to movie-brain mode, at least until the next time I get to visit my old car again.
Thanks for reading! --- Glenn Erickson
The Lost City of Z

They don't make 'em like this any more, and the original TV spots for James Gray's accurate retelling of history almost didn't know how to sell it. Charlie Hunnam spends his life trying to solve a riddle of the Peruvian rainforest, in between fighting in WW1 and dealing with class prejudice. Yup, one could say the picture was filmed in a 'classic' style . . . can that kind of show find an audience these days? With Robert Pattinson, Sienna Miller and Tom Holland. On Blu-ray from Broadstreet / Amazon Studios.
7/11/17

Blood Alley

Now a successful producer, John Wayne tries a big budget action picture with an anti-Communist theme. It's The Alamo on a ferryboat, with Wayne as an apolitical adventurer who just feels like savin' Chinese and kissin' Lauren Bacall. Ace director William Wellman holds it together -- barely. Berry Kroeger is a hateful comrade, Mike Mazurki a loyal aide and Anita Ekberg can be spotted in a couple of scenes, looking very . . . Swedish. With some interesting newsreels and TV show excerpts. On Blu-ray from The Warner Archive Collection.
7/08/17

Ikarie XB 1

For the discerning science fiction fan, this is the best of the Eastern-bloc Cold War Sci-fi epics, a genuinely brilliant and warmly human 'Voyage to the End of the Universe' restored in 4k resolution. It's from before 2001: A Space Odyssey and has an equally wondrous but totally different vision of the future. Hopefully this will soon be readily available here; buying it required some clever footwork by Foreign Exchange of Culver City. Starring my favorite Czech personalities Radovan Lukavský, Zdenek Stepánek, Frantisek Smolík, Irena Kacírková and Dana Medrická. Please Marek, forgive my incompetent diacritical marks! On Blu-ray from NFA (Czech).
7/04/17

Varieté

At last, an expressionist silent classic that takes full advantage of cinematic principles. The legendary E.A. Dupont goes in for subjective-emotional effects of which Hitchcock would approve; Cameraman Karl Freund and effects wizard Eugen Schüfftan pull off spectacular visuals and special effects. No wonder this was a huge hit in America, it's way ahead of its time (and ours too, in some ways). Emil Jannings shows why he was considered the world's best actor in the 1920's. Plus the enigmatic Lya De Putti. On Blu-ray from Kino Classics.
7/04/17

Free Fire

Have an itch to see a movie about a gunfight, the whole gunfight and nothing but the gunfight? Search no more, for Ben Wheatley and Amy Jump have the movie for you: twenty minutes of angry crooks in conference, and then seventy minutes of non-stop shootin,' with no annoying plot context or character depth to get in the way. Just say 'Bang Bang I shot you down' and then play it in a loop ad infinitum. Starring Brie Larson, Cillian Murphy, Armie Hammer, Sharlto Copley, Babou Ceesay, Noah Taylor, Jack Reynor, Mark Monero and Patrick Bergin. On Blu-ray from Lionsgate.
7/04/17

The Bridge at Remagen

What's the best true-story WW2 combat film for pure-grit, no-nonsense tanks 'n' bombs 'n' crazy mayhem action on a giant scale? This non-stop battle epic gets my vote. George Segal and Ben Gazzara's GI infantry dogs are suitably tough, cynical and desperate, especially when they're repeatedly sent into danger. The history is fairly accurate -- there was indeed a race to seize the last bridge across the River Rhine. With Robert Vaughn, Bradford Dillman, E.G. Marshall, Peter Van Eyck, Hans Christian Blech & Bo Hopkins. On Blu-ray from Twilight Time.
07/01/17

Ugetsu Monogatari

Trailers From Hell's Charlie Largent takes a Westernized look at the great Japanese director Kenji Mizoguchi and his preeminent masterpiece Ugetsu, brought to us in a stellar new release from the wizards at Criterion.. On Blu-ray from The Criterion Collection.
07/01/17

L'argent

Welcome to the final film of the aesthetically precise, rigorously austere Robert Bresson, an adaptation of a fateful tale by Leo Tolstoy visualized in Bresson's frequently maddening personal style. An extreme artist makes a fascinatingly unyielding show: as with the classic paintings that Bresson admires, appreciation requires special knowledge. With an excellent vintage interview with Michel Ciment to clarify Bresson's theory of cinema: I'm still only part-way there. On Blu-ray from The Criterion Collection.
07/01/17

June 2017
The Savage Innocents Blu-ray Hell and High Water Blu-ray Hell in the Pacific Blu-ray They Live by Night Blu-ray Running on Empty Blu-ray Comfort and Joy Region B Blu-ray Brother Can You Spare a Dime DVD The Bird with the Crystal Plumage Blu-ray Roberto Rossellini's War Trilogy: Rome Open City, Paisan, Germany Year Zero Blu-ray The Man from Planet X Blu-ray Marcel Pagnol: The Marseille Trilogy: Marius, Fanny, César Blu-ray 8 Million Ways to Die Blu-ray Death Line Blu-ray The Lodger (1927) Blu-ray Good Morning (ohayo) Blu-ray The Man in the Moon Blu-ray Blast-Off Blu-ray Joe Versus the Volcano Blu-ray Le désordre et la nuit All-Region Blu-ray The Paradine Case Blu-ray Spotlight on a Murderer Blu-ray + DVD The Picasso Summer DVD The Gumball Rally Blu-ray
May 2017
Dracula Complete Legacy Collection by Charlie Largent Blu-ray The Mummy Complete Legacy Collection by Charlie Largent Blu-ray The Ballad of Cable Hogue Blu-ray Trespass Blu-ray Inferno 3-D Blu-ray One, Two, Three Blu-ray Ghost World Blu-ray Martin Scorsese's World Cinema Project 2: Insiang, Mysterious Object at Noon, Revenge, Limite, Law of the Border, Taipei Story Blu-ray + DVD Things to Come (2016) Blu-ray Who'll Stop the Rain Blu-ray Rescuing the Runes: The Almost-Lost Original Long Cut of Night of the Demon Guest Article by Wayne Schmidt Those Redheads from Seattle 3-D Blu-ray Night of the Demon (Rendez-vous avec la peur) Region A+B Blu-ray + DVD Decoy (TV Show) DVD The World's Most Beautiful Swindlers Blu-ray Pelle the Conqueror Blu-ray Kiss Me Deadly Restoration Savant Article Blu-ray The Walerian Borowczyk Short Film Collection Blu-ray Marjorie Morningstar Blu-ray The Assassin Blu-ray + DVD The Loved One Blu-ray Broken Arrow Blu-ray The Mephisto Waltz Blu-ray 100 Girls by Bunny Yeager Blu-ray Seven Days in May Blu-ray How to Steal a Million Blu-ray The Indian Fighter Blu-ray The Young Girls of Rochefort Blu-ray I Am Not Your Negro Blu-ray The Accidental Tourist Blu-ray
April 2017
The Day of the Jackal Blu-ray I Bury the Living + The Screaming Skull by Charlie Largent Blu-ray You'll Never Get Rich Blu-ray A Farewell to Arms Blu-ray The Salesman Blu-ray Rumblefish Blu-ray and Edgar Wallace Collection Edition 1: The Face of the Frog, The Mysterious Magician, The Hound of Blackwood Castle Blu-ray by Charlie Largent Donnie Darko Blu-ray Ophélia Blu-ray Caltiki, The Immortal Monster Blu-ray + DVD The Scar (Hollow Triumph) Blu-ray The Rounders Blu-ray Buena Vista Social Club Blu-ray Chamber of Horrors & A Game of Death by Charlie Largent Blu-ray The Delinquents Blu-ray Fahrenheit 451 Blu-ray The Umbrellas of Cherbourg Blu-ray Sunset in the West Blu-ray From Hell it Came Blu-ray 36 Hours Blu-ray (The Saga of) Anatahan Blu-ray Eyes without a Face UK import Blu-ray + PAL DVD Electric Boogaloo Blu-ray Property Is No Longer a Theft Blu-ray + DVD Lifeboat Blu-ray Story of Sin Blu-ray + DVD Being There & After the Fox by Charlie Largent Blu-ray Ride The High Country Blu-ray The Russians are Coming and Career DVD The Vampire Bat Blu-ray The Skull Blu-ray 'How to Succeed' -- Take 2 Savant Article
March 2017
Invisible Ghost Blu-ray Blow-Up Blu-ray & Elle Blu-ray by Charlie Largent Julieta Blu-ray Peyton Place Blu-ray How to Succeed in Business Without Really Trying Blu-ray Fantastic Beasts and Where to Find Them 3-D Blu-ray 23 Paces to Baker Street Blu-ray Tower Blu-ray Multiple Maniacs by Charlie Largent Blu-ray Fences Blu-ray Phaedra Blu-ray Our Man in Havana Blu-ray Film / Notfilm separate releases Blu-ray Summer Storm DVD World Without End Blu-ray September Storm 3-D Blu-ray Cinema Paradiso Blu-ray Compulsion Blu-ray We Are the Flesh & Lovers on the Bridge by Charlie Largent Blu-ray RoboCop 2 Collector's Edition Blu-ray 45 Years Blu-ray The Valley of Gwangi Blu-ray The Man Who Could Cheat Death Blu-ray Finian's Rainbow Blu-ray Chilly Scenes of Winter Blu-ray A*P*E 3-D Blu-ray
February 2017
The Before Trilogy: Before Sunrise, Before Sunset, Before Midnight Blu-ray Framed Blu-ray Kiss of Death Blu-ray Edge of Eternity Blu-ray The Tree of Wooden Clogs Blu-ray Panther Girl of the Kongo Blu-ray Deluge Blu-ray 3 Classic Films by Claude Chabrol Blu-ray By Sidney Lumet DVD The Boy Friend Blu-ray The Gate Blu-ray Breakout / Der Mann Ohne Nerven Blu-ray Arrival Blu-ray + DVD A Walk in the Sun DVD Loving Blu-ray + DVD The Edge of Seventeen Blu-ray + DVD Manchester by the Sea Blu-ray + DVD Hacksaw Ridge Blu-ray + DVD Valkoinen Peura The White Reindeer Region B Blu-ray One Million Years B.C. Blu-ray When Dinosaurs Ruled the Earth Blu-ray Inferno 3-D Blu-ray Gabriel Over the White House (revisited) DVD
January 2017
Women on the Verge of a Nervous Breakdown Blu-ray Love in the Afternoon Blu-ray What a Way to Go! Blu-ray Mildred Pierce Blu-ray The Lair of the White Worm Blu-ray Dr. Orloff's Monster Blu-ray The Yakuza Blu-ray Wagon Tracks Blu-ray The Sicilian Clan Blu-ray No Highway in the Sky Blu-ray Seddok, l'erede di Satana Region 2 PAL DVD Stanley and Iris Blu-ray Who? Blu-ray Two for the Road Blu-ray Gas-s-s-s –Or– It Became Necessary to Destroy the World in Order to Save It Blu-ray The Mad Magician 3-D Blu-ray Revenge of the Blood Beast Blu-ray David and Bathsheba Blu-ray Something Wild Blu-ray The Accountant Blu-ray + DVD The Keys of the Kingdom Blu-ray The Barefoot Contessa Blu-ray The Internecine Project Blu-ray Battleground Blu-ray The People vs. Fritz Bauer Blu-ray His Girl Friday & The Front Page Blu-ray The Driller Killer Blu-ray
December 2016
Wait Until Dark Blu-ray 'Pimpernel' Smith Blu-ray Loophole (1981) Blu-ray Deepwater Horizon Blu-ray + DVD 50 Years with Peter Paul and Mary DVD Bad Day at Black Rock Blu-ray Sully Blu-ray The 3 Worlds of Gulliver Blu-ray Dreamscape Blu-ray Savant Picks the Most Impressive Discs of 2016 Fellini's Roma Blu-ray I Want to Live! Blu-ray 100 Rifles Blu-ray Brazil Blu-ray The House on 92nd Street Blu-ray Short Cuts Blu-ray The Exterminating Angel Blu-ray Bad Girl Blu-ray Pretty Poison Blu-ray Sudden Fear Blu-ray Cry of the City Blu-ray Pete's Dragon Blu-ray + DVD





Reaching further back in time? Chronological 2015 and 2016 can't be uploaded yet, but you can search back in the archives, immediately below. Available now is
A Chronological List of DVD Savant's Reviews for 2014
... and for 2013 ... 2012 ... and 2011
Use the search function at the top of the page for individual titles -- it's new and improved and works well.
Hundreds more Savant reviews at the Other End of this Link!
Archives
Don't forget to write Savant at dvdsavant@mindspring.com.
Advertise With Us
Review Staff | About DVD Talk | Newsletter Subscribe | Join DVD Talk Forum
DVD Savant Text © Copyright 1997-2007 Glenn Erickson - Copyright © DVDTalk.com All rights reserved | Privacy Policy | Terms of Use